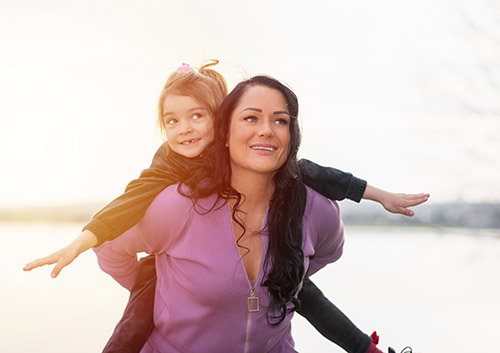 Baby teeth are very important to your child's present and future dental health, so we want to help you keep your child free from cavities and gum disease even before those permanent teeth erupt. That's why we recommend professional cleanings at our Dallas office—to keep plaque and tartar from damaging little teeth and gums.
But a dental cleaning might be a bit stressful for young children, especially when they're not used to the steps, the sounds, and the sensations of the cleaning process.
So, just as we strive to make every examination and visit a positive experience for your child, we do our best to make their cleanings a happy, stress-free time. How do we do this? With your help!
A happy experience begins even before your child arrives in the office. If you are relaxed and positive before an appointment, you'll help your child feel relaxed and positive, too.
Explaining what goes on during a cleaning even before your visit will help your child feel more comfortable when unfamiliar tools like dental mirrors, scalers, and polishing brushes are used. You can talk about your own experience, read a book together, watch a video, or find online resources to help your child understand what will happen during your visit, and why cleanings are so important for happy, healthy teeth.
Sometimes children benefit from a form of mild, conscious sedation (such as nitrous oxide) when they have special health needs or dental anxiety. If you feel this is an option we should discuss, please talk to us in advance and we'll answer any of your questions.
After being made welcome in the office and settled comfortably in the dental chair, we'll examine your child's teeth and gums for any signs of plaque and tartar. A small, handled mirror is used to check out hard-to-see places behind the teeth and in the back of the mouth. Gum health is also important, and your child's gums will be examined for any signs of gingivitis, or mild gum disease.
Plaque and tartar cause cavities and gum disease, even for young children. Finding any trouble spots will let us know where to concentrate on cleaning, and where you can help your child to brush more effectively.
Removing Plaque and Tartar
No matter how well a child (or an adult!) brushes and flosses, plaque can build up in some hard-to-reach spots, especially between the teeth and along the gumline. And if plaque isn't removed within a few days, it starts hardening into tartar—and tartar can't be brushed away.
That's why removing tartar is a job for a dental professional. Using a special tool called a scaler, we gently scrape built-up plaque and tartar off tooth enamel (especially where it tends to accumulate behind and between teeth) and near the gumline. Sometimes an ultrasonic scaler can be used to dislodge tartar with sound waves.
Scalers can make a scraping noise and cause some pressure, and ultrasonic scalers use a stream of water as they clean. We're happy to explain, in an age-appropriate way, why tools make these noises and how they work to clean little teeth.
After the plaque and tartar are removed, your child's teeth will be polished with a power brush and a special gritty toothpaste. This is usually a bit noisy as well. A careful flossing and a final rinse will wash away any leftover particles or paste.
Once the teeth are cleaned, you may choose to have a fluoride treatment or a dental sealant applied to your child's teeth.
Your praise and encouragement are always welcome! Giving children praise for helping keep those little teeth clean, shiny, and healthy makes them partners in the process.
How do we clean your child's teeth? Gently. Thoroughly. Expertly. We want to make sure each cleaning is just one of the many positive dental experiences your child will have in our office. Help us make your child's cleaning appointment stress-free with positive preparation and reinforcement, and together we'll start your child on the path to a lifetime of shining smiles and proactive dental care!