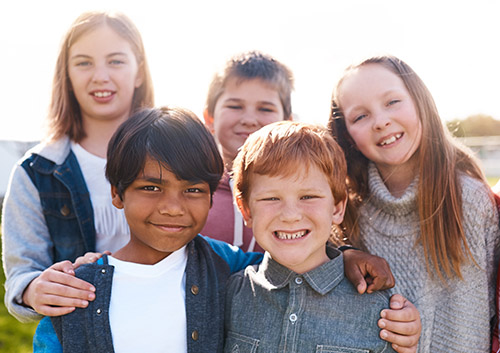 Whether you're defending the goal, shooting hoops, or practicing tricks on your skateboard, sports and exercise are a great way to keep fit and healthy. Let's make sure you keep your smile fit and healthy, too, with a few easy ideas you can use whenever you work out.
Eat Tooth-Friendly Snacks
Most activities use lots of energy. One simple way to keep up your energy when you're on the go is with snacks.
And one simple way to protect your teeth from cavities when you're working out? Cut down on snacks like dried fruits, granola bars, and chips that can have a lot of sugar and/or stick to your teeth. Sugary and sticky foods feed the bacteria in plaque, and plaque causes cavities.
There are lots of tooth-friendly choices when it comes to recharging your energy levels. Fresh fruit slices and vegetable sticks are an easy-to-carry, vitamin- and mineral-packed snack. Bring some peanut butter for dipping or add some plain nuts for protein and crunch. Whole grain crackers and hard cheeses are another tasty choice. And drink some water after snacking to rinse away food particles.
Drink Water When You Exercise
And, speaking of water, our bodies can't work without it! Healthy hydration means drinking the right amount of water every day—not too little, not too much—to help every cell in your body keep going strong.
But when you're working out, breathing harder, and sweating, your body is losing water. That's why athletes always keep a water bottle handy.
Of course, you can hydrate with other liquids besides water, and flavored sports drinks and energy drinks are popular with a lot of people—but not with dentists! If you look at their labels, you'll often discover lots of sugar in these drinks. And they can also be very acidic, which can make your tooth enamel weaker.
Bring your own water, and you'll be hydrating, protecting your teeth, and helping to keep the planet healthy with your reusable bottle.
You don't play contact sports without protective gear—and part of that gear should be a mouthguard. Sports like hockey and football are obvious contact sports, but, if you think about it, baseball, soccer, biking, skateboarding, and many other activities can bring you into contact with another person, a piece of equipment, or the hard ground!
One way to make sure that any contact is easier on your teeth and mouth is to wear a mouthguard. You can get these ready-made, or in a kit which lets you mold the mouthguard around your teeth, or you can have one made at our Dallas office, which will fit your teeth perfectly and provide the best protection (especially if you wear braces).
Keep your smile strong and healthy while you keep fit with these simple additions to your work out routine. And for even more good ideas for taking care of your smile, ask an expert—Dr. Diane Colter!