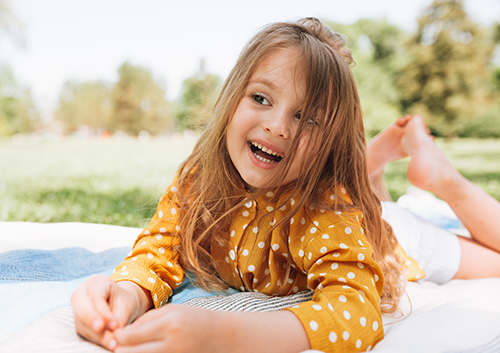 When you were younger, and you brushed your teeth without any help for the first time, it was a big step. It meant you'd learned the right way to brush to keep your teeth and gums healthy. But why does brushing help keep you healthy? Let's talk about plaque!
Plaque rhymes with "attack," and that's just what it does to your teeth. If you don't brush for a few days (which is a bad idea!), plaque is the reason for that fuzziness you feel when you run your tongue over your teeth.
If your teeth feel fuzzy, that means that plaque has been building up for a while. But how does it begin?
Plaque is made up of saliva, bits of food, other liquids, and tiny little organisms called bacteria. While most of the bacteria in our bodies don't bother us—and some even help us—the bacteria in plaque are not so helpful.
Plaque starts with a type of bacteria that stick to the teeth, loosely at first, and then more strongly. Within hours, they join with saliva, bits of food, and other bacteria and bacterial products to make a very sticky film. This film is plaque.
Why is it so important to brush plaque away every day? As Dr. Diane Colter will tell you, plaque can cause cavities and hurt your gums.
How Does Plaque Cause Cavities?
Bacteria are like us—they need food. The bacteria in plaque especially like the sugars we eat. (That's why you shouldn't have too much junk food or candy in your diet.) Bacteria change these sugary building blocks into a kind of acid, and because plaque is sticky, the acids stay on your teeth.
These acids breaks down the enamel, that hard coating which covers teeth. Tiny weak spots can grow and become holes in the enamel. We call these holes cavities, and your dentist can repair them by cleaning away the decay and putting a filling in your tooth to protect it.
But it's best to prevent cavities from ever starting by brushing and flossing. Even though plaque is sticky, it is easy to brush away when you do it every day.
How Does Plaque Hurt Your Gums?
The gums surround our teeth and help protect them, but they are also delicate. When plaque builds up, it can irritate your gums.
You might notice that your gums get red, feel sore when you brush, or look puffy. You might have bad breath that doesn't go away. All these are signs that your gums are reacting to the plaque around them.
The good news is that careful brushing and flossing can usually fix these problems. Talk to Dr. Diane Colter about taking good care of your gums.
Yes! From the time you were small and learned how to brush, you've been learning how to fight plaque.
Brush at least twice a day for two minutes, and be sure to brush all around each tooth and the gums.
Floss to remove plaque from where it hides between the teeth and near the gums.
Visit our Dallas office for a cleaning, to remove plaque from hard-to-reach places and to learn the best ways to brush and floss.
As soon as you finish brushing, plaque starts to build up again. But no need to worry! Keep brushing, flossing, and visiting us for regular cleanings, and all your careful work will be rewarded will a beautiful, healthy smile.