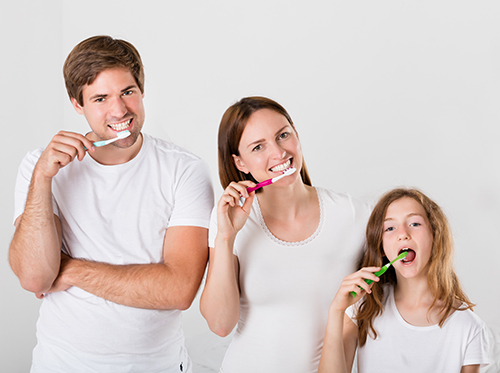 It's gratifying to know your child has good oral hygiene, especially starting from an early age. We know it can be difficult to get your son or daughter to brush those tiny teeth, let alone brush them well enough, every day. Dr. Diane Colter and our team are here to give you some tips on how to help your youngster learn excellent oral health habits.
Your child should brush his or her teeth at least twice a day in order to prevent cavities and decay. An grownup may have to assist with flossing or using mouthwash. Always make sure your little one doesn't swallow toothpaste or mouthwash in the process.
Only buy alcohol-free mouthwash, especially if you have young children in your household. Oral healthcare should be made fun from the start, to create good habits!
Helpful Tips
Set a good example. Brush your teeth with your children and make it fun! Pick a two-minute song to play while brushing and dance along to it.
Make it a race to the bathroom to see who can get the toothbrush and floss out first.
Use a sticker sheet. For every night your children brush well, give them a sticker. After they've earned certain number of stickers, they win a reward. Let them pick it!
Let your child check your brushwork, or try letting your youngster brush your teeth!
Allow children to play with a toothbrush if they want to. They can brush their favorite stuffed animal's or doll's teeth before bed as well.
Let your child pick his or her own toothbrush or toothpaste from a range of options you provide. Kids might pick one with their favorite cartoon character(s) on it, for example.
Get a two-minute brushing timer your child can flip over when he or she starts to brush. Your son or daughter can watch the sand fall until it's empty, which notifies the kid it's time to stop brushing.
Buy special children's mouthwash that is colored to stain the areas of the child's mouth where he or she needs to re-brush for effectiveness.
Be gentle when your little one makes a mistake like forgetting to brush, and remind your son or daughter about the importance of good oral health in a fun, loving way.
There are plenty of ways to make brushing your child's teeth more fun and effective. When Dr. Diane Colter and the parents work together, we can help establish good oral health habits in children that will last a lifetime.
Take the trouble to set a great example for your children, and they will follow in your footsteps. If you're concerned about your child's oral health, contact our Dallas office and schedule an appointment with our team.